Our Team
Criminal Defence Law Specialists, our  barristers have over 40 years' combined experience, with highly successful results for our clients.  Our experienced criminal defence law team works together to achieve the best outcomes for you.
Chris Wilkinson-Smith
Barrister
Admitted 1995 Criminal Defence and Crown Prosecution work, Appeals, appeared in all courts; District Court, High Court, Court of Appeal and Supreme Court.
Contact – Chris@defence.co.nz or 0212433178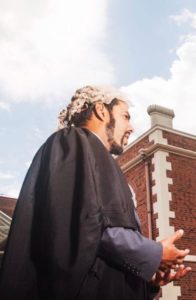 AARIF RASHEED
Barrister
LLB. B.Sc. Qualified 2004. Admitted 2006.
Aarif has thirteen years experience as a specialist criminal lawyer. He joined Auckland Defence Chambers as a Barrister nine years ago, specialising in Criminal law.
Aarif also specialises in Immigration matters with a Criminal law "crossover" such as matters involving Deportation and Character waivers.
Aarif continues a family legal tradition of advocacy that has run for forty years in Auckland city. His father Abdul Rahim Rasheed is remembered by senior and retired lawyers as a tenacious advocate of the Auckland Magistrate's Court days, a close colleague of the late Peter Williams QC. His work in the then Supreme Court of New Zealand included criminal-immigration cases which feature in the NZ Law Reports.
Aarif's advocacy work for the under-privileged continues this legacy; he spent some ten years defending similar clients in South Auckland.
Aarif began his legal work as Public Defender, and was the original Law Clerk for the Public Defence Service Pilot of the NZ Government which commenced in 2004. He was based in the high-volume serious crime court of Manukau, from where he also trained new law clerks and rose through the ranks as a criminal lawyer as a Public Defender.
After four years with the Public Defence Service, Aarif joined Auckland Defence Chambers, in 2008.
Aarif has appeared as both junior and sole counsel in the High Court and Court of Appeal on the most serious of matters including on multiple Murder cases.
He also represents clients of diverse backgrounds and is highly experienced in catering for international clients as well as those new to New Zealand.
Contact Aarif: aarif@defence.co.nz
NB: For very urgent matters, text-message: 021-29-555-49
____________________________________________________________________
______________________________________________________________________
RIZWAAN RASHEED
Barrister
LLB. B.A. Qualified 2006. Admitted 2007.
For the last six years Rizwaan has remained as a Barrister specialising in Criminal & Immigration law with Auckland Defence Chambers.
Rizwaan has been appearing in the District Courts of Auckland both as junior to Aarif Rasheed and agent for other lawyers, for six years.
Rizwaan also continues a long family tradition in the law, with his own father, Abdul Hafeez Rasheed having been a high profile lawyer in Fiji, Australia and New Zealand at the highest levels of courts in each of those jurisdictions, on charges such as murder and manslaughter. Rizwaan's sister is also a senior lawyer for the New Zealand government, and is also well known for her work in the Auckland District Court for several years.
Rizwaan had the benefit of starting his lawyering under the direct tutelage of his father who handled some of the most serious immigration and refugee cases from 1999 onwards, after his return from lecturing in law overseas. Rizwaan gained considerable experience in forensic factual analysis relating to complex humanitarian circumstances, and brings this excellent aptitude for fairness and justice to his work as a Criminal and Immigration Barrister.
Rizwaan has since also assisted with serious cases including Murder trials in the High Court of New Zealand.
Rizwaan also specialises in the area of Immigration and Criminal law "crossover" such as matters involving Deportation and Character waivers.
Contact Rizwaan: rizwaan@defence.co.nz